Welcome to the Darkest of Days wiki!

[

]
The wiki dedicated to the videogame Darkest of Days, that anyone can edit!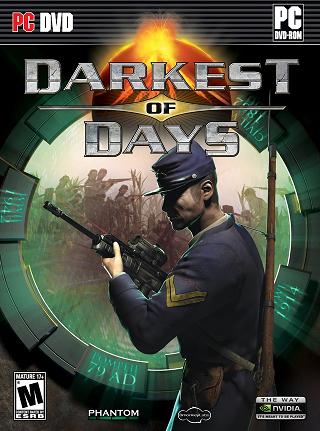 Darkest of Days is a first-person shooter video game developed by 8monkey Labs and published by Phantom EFX. It was released in North America and Europe on September 8, 2009 for Microsoft Windows and the Xbox 360. It was also released on the Mac app store in May, 2011 for 25 dollars. When downloaded, it is automatically at v1.05.
---
Darkest of Days takes the player through time into historic battles in an effort to save key individuals from certain death. The battles range from Custer's Last Stand at the Battle of the Little Bighorn in 1876 to fighting in Pompeii as ash and fire rain down from an erupting Mt. Vesuvius in 79 AD. Other locations include the battles of Antietam and Tannenberg, and a German World War II P.O.W. camp. There are different missions in every time period and the game takes about 4 hours to complete.
The game features over twenty weapons, both from the original time period as well as those brought back from the future. In addition, there are artillery weapons from different time periods to assist in battle...
And there's more to know at Darkest of Days (video game)...
Helping Out
[
]
New pages
This wiki is in its early stages, and it could use all the help it can get. If you know anything about Darkest of Days, then please contribute! Any edit right now is crucial to building up the wiki!
And if you'd like to make bettering this wiki a hobby, then feel free to register for your own account! It's quick, easy, costs nothing, and you can use your account on any wiki hosted by Wikia!
Do you know something, but don't know how to edit it into the wiki? Stop by the help page for almost all you need to know about wikis.
Happy Editing!